B. J. Harrison Reads The Circular Staircase
- Mary Roberts Rinehart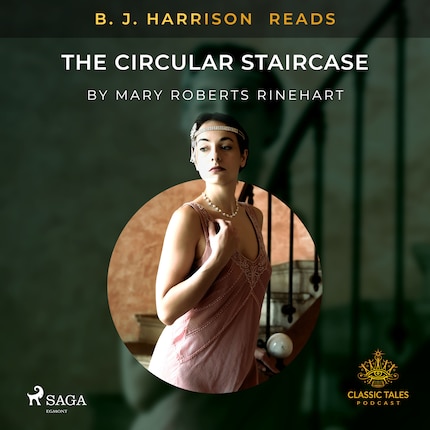 Trama del libro
Rachel Innes is a rich lady who has been taking care of her niece and nephew since their father died. The three of them decide to rent a house in the country and although everything seems to be alright in the beginning, strange events soon begin to occur. Her niece disappears then reappears a few days later. There is a murder they are involved in. They hear strange noises. Things fall down the stairs in the middle of the night. Will Rachel solve the mysteries and how will their summer end? Find out in "The Circular Staircase".

B. J. Harrison started his Classic Tales Podcast back in 2007, wanting to breathe new life into classic stories. He masterfully plays with a wide array of voices and accents and has since then produced over 500 audiobooks. Now in collaboration with SAGA Egmont, his engaging narration of these famous classics is available to readers everywhere.

Mary Roberts Rinehart was an American writer who lived in the period 1876-1958. She wrote hundreds of short stories, novels and travelogues. She gained wide popularity with her detective stories and although her first mystery novel was published 12 years before Agatha Christie's, Rinehart was often called the American Agatha Christie. Mary Rinehart is considered to have invented the "Had I but known" way of mystery writing, which she used for the first time in her bestselling story "The Circular Staircase".